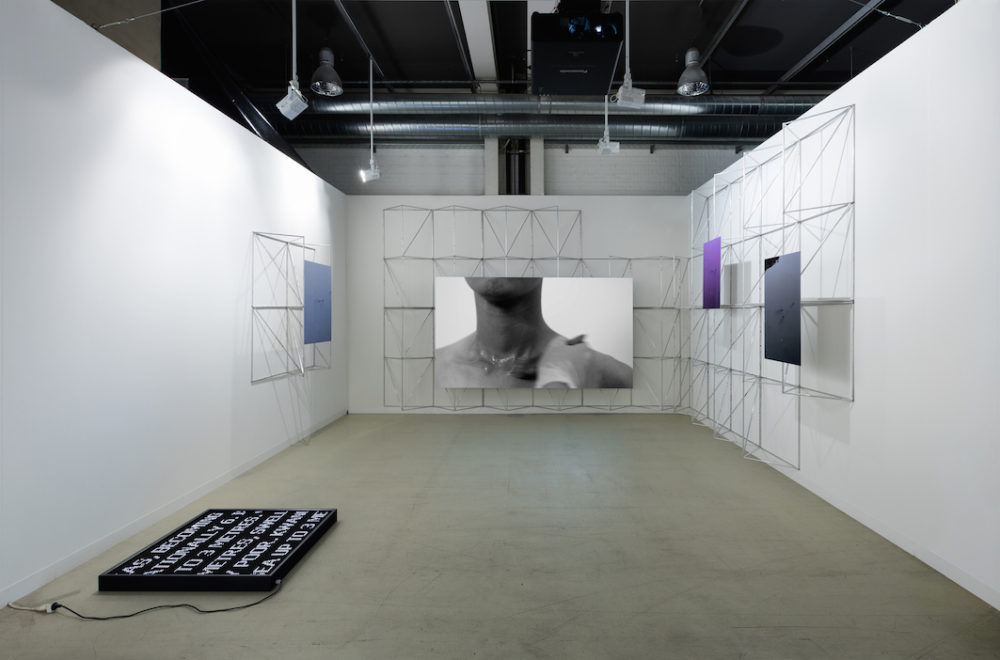 2017
Installation consists aluminium structures, HD video with sound, projection screen, programmed LED panel and three C-Prints, mounted on aluminium
Variable dimensions
Unique
At the core of the installation stands the artist's theme of the body in its layered political aspects. In her major new video work Memory Dispute (2017) Tieu investigates the shifting economies of the use of toxins in past and contemporary Asia. Memory Dispute captures a remote rainforest in central Vietnam, an area heavily attacked by napalm during the Vietnamese American war. The footage recording ghostly images of an ecosystem now irrevocably altered. The landscape becomes a metaphorical study when contrasted with footage, which meticulously document the process of an illicit skin whitening treatment prevalent throughout Southeast Asia. An acid fluid is applied onto the body to separate two skin layers, allowing the entire first surface layer of skin to be peeled off. Skin, the protective surface of the body, functions here as a metaphor and a means to inquire on the circulation and shifting impact of these external forces onto individuals.
Tieu's moving image work maps disparate and converging lines between the inflammable liquid napalm and that of an acid skin peel, exploring the body, nature and Vietnam's layered historic colonial legacy as a vessel exposed to harm and self-harm and wider implications to future uncertainties.
Tieu has further shot a series of photographs in response to the environmental incident, which occurred in 2016, when Formosa Plastics Group released toxic chemicals into the ocean, where Tieu during this time shot her video work. Across the installation – ranging from the three photographs Inhale, Exhale, Inhale Again (all 2017) hung on melted aluminium bars and a LED sculpture installation – Tieu expands on the exploration of the fragility of the body, singling out details of the daily exposure to pollution. The sculptural LED work shows the marine weather forecasts for the South China Sea, an area in front of the Vietnamese coastline that is currently claimed by China and where Formosa's toxic spill occurred. In these weather forecasts Tieu investigates unforeseeable influences causing humans and environments to adapt, alter and self-repair. Underpinning the installation, the modified aluminium structure, reminiscent of this observation, references architectural design and the organic body equally, thus pointing out the interactions and crossing lines between corporate and individual responsibility, private and public sectors.